The grinder is used to grind the wafer piece into desired thickness.

Machine Overview
Wax, Metal Disc, and Heater
Disc and Disc Holder
Water Hole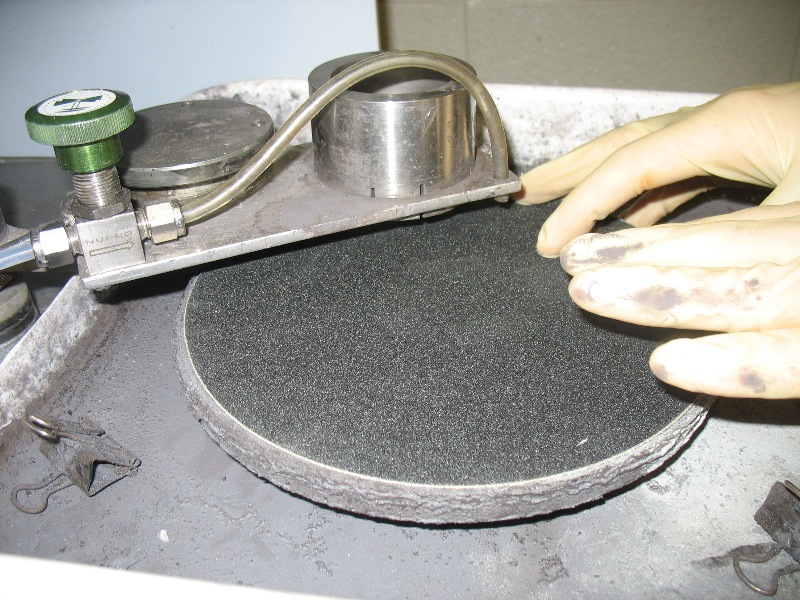 Prepare the wafer Make sure your 5 peices of wafer are ready (cleave it from the wafer). 4 for each edge and 1 for the center.
Wax the Wafer Turn on the heater located next to the Grinder.
Put the metal disc on the heater.
Get the Crystal Wex on the shelve located on the top of the Grinder. Melt one end of the wex to the top of the disc. Stir it smoothly and cover the whole disc.
Grab the disc up and keep melting the wex on the disc.
Put the center big peice of wafer.
Then measure the thickness with the micronmeter.
Put it back on the heater and put the rest of the edge pieces on the disc.
It should look like this when you are done.
Then take the disc and put it under the bottom of the disc holder. Make sure wafer part faced the grinder plate.
Changing the grinder plate When finsihing the grinder process, you should change the grinder plate Take a grinder sand paper from the shelve.
Take out the old one and put the new one on top of the grinder.
Try to hold it as flat as possible(use the metal block) and put the four clips back.
Starting the Grinder Spray water on the the metal plate.
Insert the disc holder through the Grinder hole.
Insert the water hose back to the grinder holder.
Make sure waste bottle are not full.
Starting the Machine Before you do it, take out the disc holder and turn on the machine to make sure it works. Turn on the water knob and let the water come out slowly. Then put the disc holder back to the Grinder Hole Plug in the power plug of the grinder and the grinder will start moving back and forth
After 15-30 seconds, turn off the machine, take the wafer disc.
Measure the thickness of the wafer.
If the wafer is still too thick, put it back to the grinder and repeat the process until the wafer's desired thickness is reached.
Troubleshooting
For problem or question about the Grinder Machine, please email the student contact on the top of the page.